Button Battery Safety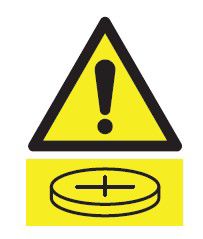 All round, flat, disc like batteries are known as button and coin cell batteries.

Regardless of their size, voltage or type, all button and coin cell batteries are hazardous. They must be kept out of reach of children at all times, whether they are new or used.
These batteries can cause severe or fatal injuries in 2 hours or less if swallowed or placed inside any part of the body.
Seek medical attention immediately if it is suspected that the battery has been swallowed or placed inside any part of the body or contact the Australian Poisons Information Centre on 13 11 26 for 24/7 fast, expert advice. If your child is having any difficulty breathing, contact 000.
Some other button battery safety tips to keep your children safe include:
Regularly check all of your battery operated devices and make sure the battery compartment on each is correctly secured, e.g. that the screw or other mechanical fastener is tightened.


Do not use, and responsibly dispose of any battery operated products if the compartment is not secure.


Dispose of used button and coin cell batteries immediately and safely by placing sticky tape around both sides of the battery and disposing of it immediately in an outside bin, out of reach of children, or recycling safely. Flat batteries can still cause severe and fatal injuries


Tell others about the risk associated with button batteries and how to keep their children safe
Button Batteries - The Hazard
3 children have died in Australia due to button battery ingestion


1000 children per year are rushed to Australian emergency departments after ingesting or inserting button batteries


Swallowing can lead to serious injury or death in less than 2 hours


1 child per month sustains a serious injury


The average shelf life of a button battery is 10 years and the batteries can cause severe injuries and death even if flat.