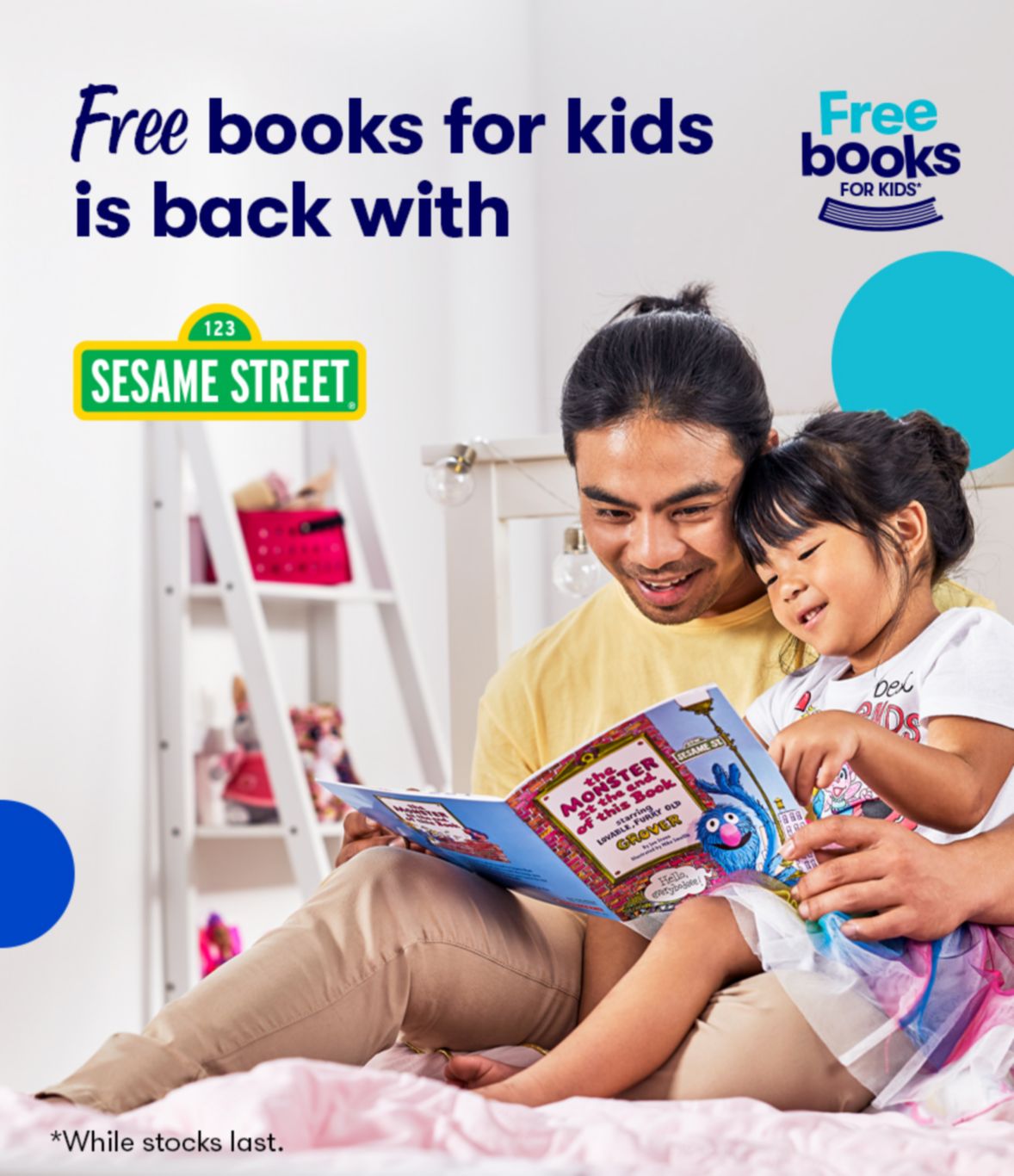 Free Books for Kids is back!
In stores only. While stocks last.
The Monster at the end of this book
Lovable, furry old Grover is distressed to learn that there's a monster at the end of this book!
He begs you not to turn the pages, but of course, you just have to see this monster for yourself!
You will be delighted to see the monster at the end of this book.
What is Family on Sesame Street?
Family is where the heart is.
Featuring inspiration from beloved Sesame Street characters reminds you that even though all families are different, home is where your loved ones are.
This family diversity book for kids teaches the timeless lesson that we're all alike through a warm and uplifting story and charming illustrations.
I Love You Just Like This!
"I've loved you all my life, every single day. I love you oh so much - I'll tell you all the ways!"
Come see all the ways with Elmo and his Sesame Street Friends.
Just One You!
This is a story that's all about you, and all the spectacular things that you do.
So please come along, and we'll show you it's true: there is just one and only wonderful YOU!
Dream with Sesame Street
A dream can be big or a dream can be small.
What matters the most Is to have dreams at all.
Ambitious, creative, outrageous, concrete,
or close to your heart, something simple and sweet.
Love from Sesame Street
Love is infinite. Love is giggles. Love is cookies.
Explore all the definitions of love with your friends from Sesame Street! In this illustrated picture book, children will delight in seeing their favorite characters share what love means to them.
All Tucked In
Join Elmo, Oscar, Cookie Monster and the rest of the Sesame Street friends as they get cosy and comfy for bed.
Sweets dreams!
Another Monster at the End of this Book
There's another monster at the end of this book!
Elmo wants to see who it is...
Grover does NOT!
---
Supporting Partners
The Australian Literacy and Numeracy Foundation (ALNF) established in 1999, is a national charity dedicated to raising language, literacy and numeracy standards in Australia.

The Foundation believes that literacy is freedom - literacy allows individuals to access education, participate meaningfully in our society and to have a voice.
To make storytime fun and educational, here are some tips from the experts at ALNF:
1.
Read the character's voice as you imagine it would sound.
2.
Add in action noises too; a tap dripping, a rocket blasting off, the thumping of footsteps.
3.
Be sure to emphasise rhyme, silly sentences, repeated sound and word play.
4.
Show the feelings in the book by pulling faces or adjusting your body posture. Are you happy and smiling? Standing tall and feeling proud?
5.
Find any connection between the illustrations in the book, and the environment you can see and find around you.
6.
Connect what's happening in the story to your child's life - if you family has experience something similar, point it out.
---
Frequently asked questions
What is Free Books for Kids?

Since 2019, we have been making books more accessible to all Australian families with our Free Books for Kids program. Every family is invited to collect a free book each week for 8 weeks during the campaign period when they visit their local BIG W store, with absolutely no purchase necessary. New titles will be released each Thursday from 18th February and will be available nationally while stocks last. We will also be releasing audio recordings weekly on the 'BIG W Free Books for Kids' podcast which can be found on Acast, Spotify or Apple Podcasts.
When does Free Books start?
Our Free Books For Kids program will start on Thursday 18th February and runs for 8 weeks**While stocks last.
How do I get a Free Book?
Your health and safety is our priority, and we continue to offer a safe shopping experience in store. We are encouraging you to pick up a book near the front of the store themselves with hand sanitiser made available nearby.
Do I need to purchase anything to get a free book?
No, you do not need to purchase anything to get the free book - simply come in store to collect, or if you are listening at home, you can access the podcast for free through Apple Podcasts, Spotify or Acast platforms.