Everyday Rewards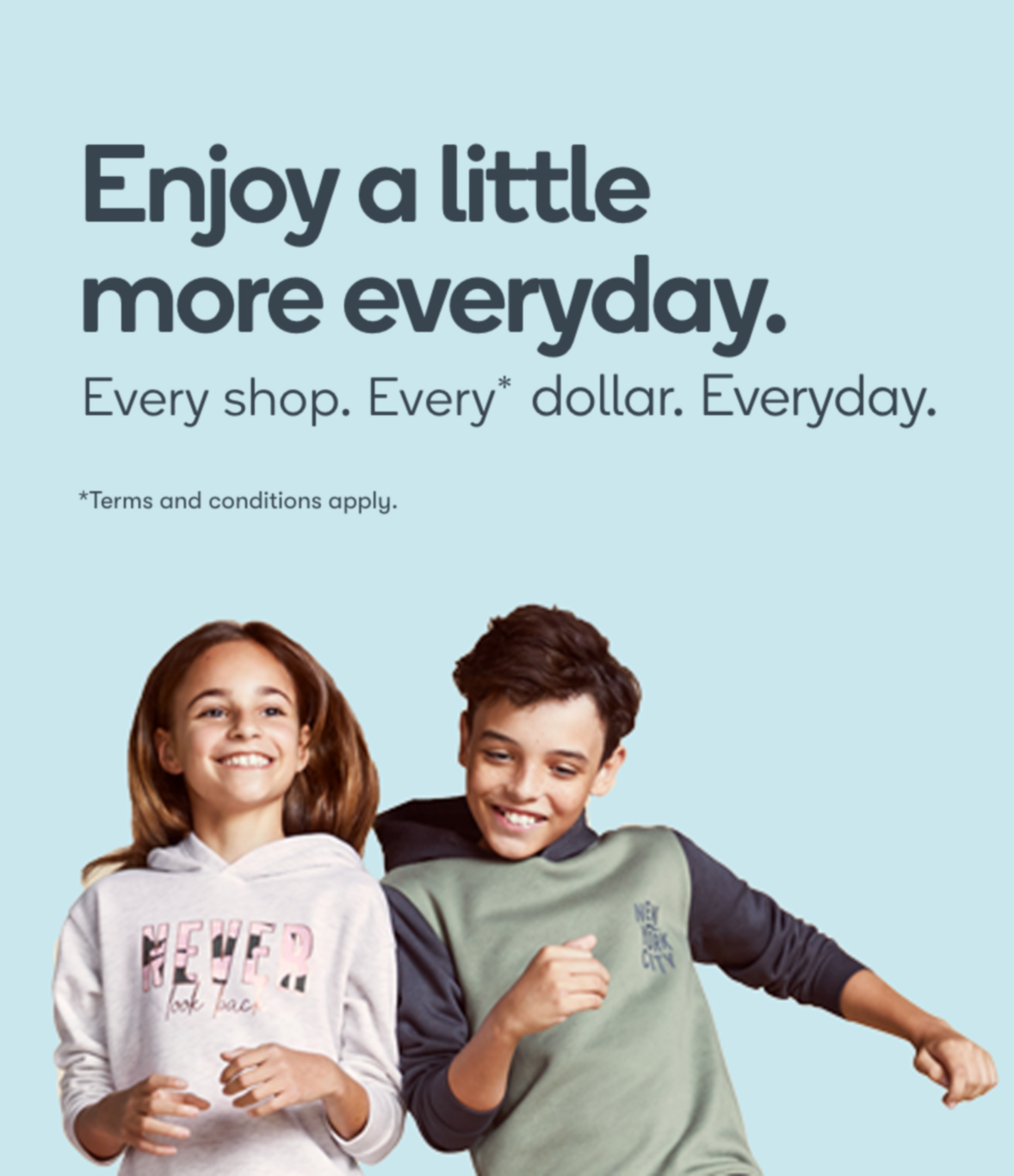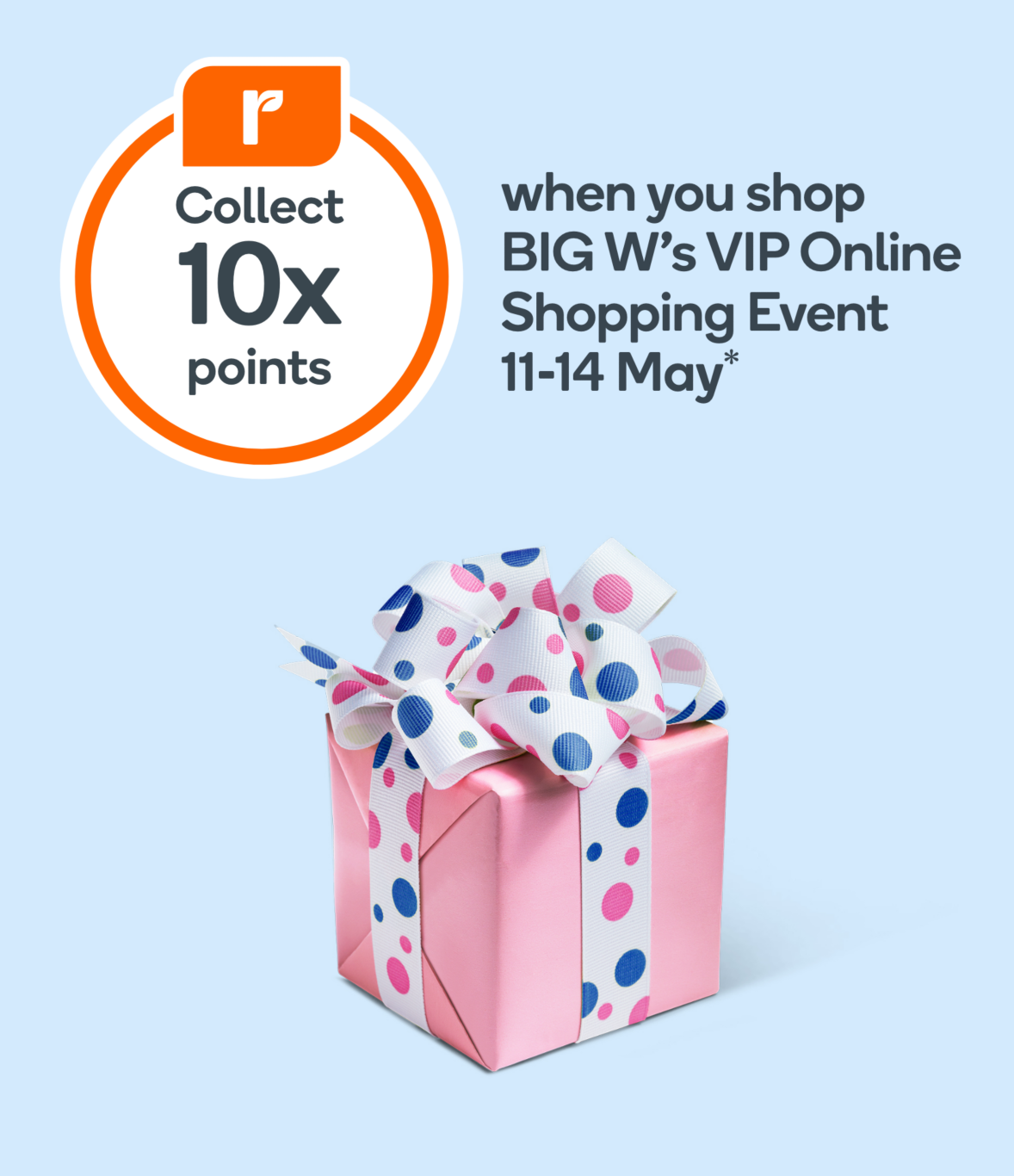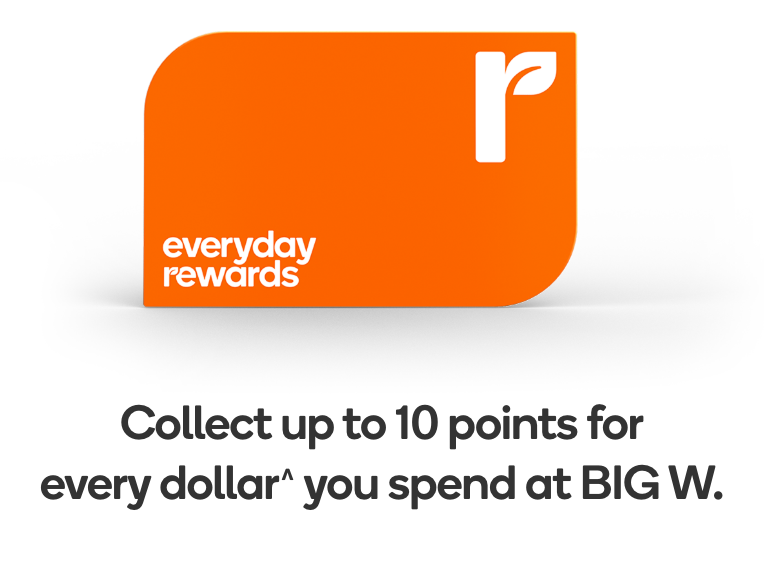 Frequently Asked Questions
Terms and Conditions
*There are a small number of purchases on which you won't collect points. For details, see this FAQ. Points exclusions, terms and conditions apply. Go to everydayrewards.com.au/boost for more information.
Collect 1 Everyday Rewards point for every $1 you spend in store and online at BIG W. You will not collect Points on gift cards (including iTunes), donations, BIG W Photos, BIG W Ebay, travel cards and tickets, or mobile recharge.
You can also collect Points on Lay-bys in store with BIG W. The total amount of points collected will be based on the initial Lay-by purchase. No points will be collected on subsequent Lay-by part payments and Lay-by service or cancellation fees. See BIG W's Lay-by terms here.
You can collect points for Afterpay, PayPal and Zip purchases online and in store.
To collect Points, you must scan your registered Everyday Rewards card at the in store checkout or Lay-by counter. To collect Points when shopping at bigw.com.au, your Everyday Rewards card must be added to your account prior to completing your order and you must be logged in at point of checkout.
In addition to the above terms and conditions, by participating in the Everyday Rewards program you must agree to the Everyday Rewards Terms and Conditions.
*BIG W's VIP Online Shopping Event Terms & Conditions
*BIG W's VIP Online Shopping Event Terms & Conditions

When
Promotion runs from 00:01 AEST 11/05/2021 to 23:59 AEST 14/05/2021.

Where
Promotion is available online only at BIG W.

Who
This offer will be available on your Everyday Rewards Card.How it worksShop online at BIG W to collect 10x points. 10x points equals 1 (one) standard Everyday Rewards point and 9 (nine) additional points per dollar spent. This offer can be enjoyed multiple times during the promotional period. To enjoy your offer online at bigw.com.au you will need to ensure your registered Everyday Rewards Card number is linked to your online account at checkout. If you are eligible for multiple points boosters on the same product, 1 standard Everyday Rewards point will be collected once only for all such points boosters, plus the applicable number of additional points. For all online transactions, orders need to be delivered or picked up by 23:59 AEDT on 14/05/2021 to qualify for the points. For delivery and pick up timeframes, please see bigw.com.au/delivery.

When will I get my points?
Your points can take up to 7 business days from the date of purchase to be loaded onto your Everyday Rewards Card.

Exclusions
You will not collect any points on gift cards (including iTunes), mobile recharge, travel cards, tickets, BIG W Photos, BIG W eBay, donations, lay-by fees or, lay-by cancellation fees.